New Christian network launching; Bishop I.V. Hilliard a stakeholder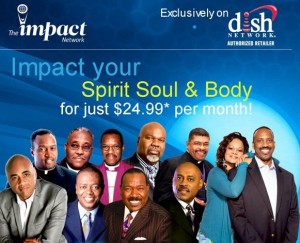 The Impact Network is launching as the nation's first national Christian network founded & run by African Americans. Bishop Wayne T. Jackson, is the founder and president of this project. Houston's own Bishop I.V. Hilliard, New Light Church, is also a major stakeholder in this venture.
The network has been broadcasting locally in Detroit, but is launching nationally on the DISH Network.
The Impact Network will consist of spiritual, social, political, and community oriented programming.
The network's leadership is building the station on positive programming for the community, "We will include everything from health education all the way to spiritual and general education," says Impact's General Manager, Terry Arnold.
Contact DISH Network to get this station in your area.