"Gospel Heritage" to celebrate with huge free concert, Sept. 30th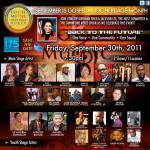 In commemoration of "Gospel Music Heritage Month" on Friday, September 30th @ 7:30 p.m., a stellar group of nationally renown and local gospel artists will be featured in a concert at New Light Christian Center-East at 7317 E. Houston Rd-East Campus (old Lakewood Church site).
There will be two Stages of gospel entertainment: the Mainstage will feature Yolanda Adams, Jennifer Holliday, Shawn McLemore, Kathy Taylor, V. Michael McKay, Will Fortune Jr., Ami Rushes, Myron Butler, Chad Brawley, Javier Galvan, Lady Beatrice Ward & The Angelic Voices and the Gospel Music Heritage Month (GMHM) One Voice Choir along with other artists; the Youth Stage will include Le'Andria Johnson (winner of Sunday's Best 2010), Daniel Johnson, Chad Stevenson, Soulfruit, Ki Kyham, Lici Lewis, Dejuan Adamson, Reconcile, and the GMHM Citywide Youth & Young Adult Choir. The concert is free to the public and promises to be an uplifting celebration.
For more information, call 281-616-7907 or visit www.GospelMusicHeritage.org. The Gospel Music Heritage Month Celebration is produced by Walker Entertainment Group.
Credit: Praise921.com