Artist Profile | Ron Summers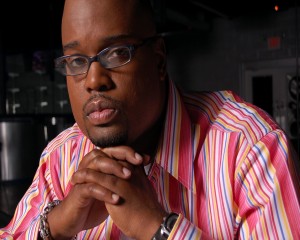 Ron Summers
Ron Summers originally hails from Detroit, Michigan, and was raised in Indianapolis where he honed the vocal technique and writing style that you hear in his music today. His gift was discovered and developed while singing with the T.M. Mass Youth Choir. He later organized NU REV Community Choir that led to his first professional recording "Ron Summers and Nu Rev-Omnipotent" in 1997 on Tyscot Records.
As God so often moves us physically to grow us spiritually, Ron moved to Houston in 1999 and organized "Sounds of Levi (SOL)" a group of anointed singers. It was in 2002 when Ron continued to use his blessing as the Minister of Music at St. Johns UMC Co-Pastors Rudy and Juanita Rasmus In 2006 Ron was signed to, Spirit Rising Music (MWE) where he wrote, recorded and performed 4 songs on the "Pastor Rudy Experience Touch Vol. 1" which features the two hit singles "Total Praise" and "He is Lord" F. Brian Courtney Wilson.
Ron is the Minister of Music of New Life Tabernacle Church of God in Christ (COGIC), where he directs the mighty "Voices of Judah" . He was appointed as the Local Music Chair Auxiliaries In Ministry (AIM) Convention that took place July 2011 in Houston TX. With this charge Ron organized the Texas Connection Choir which kicked off the convention on July 4, 2011. Ron's writing abilities have shown and proved as "God can do anything but fail" performed by Kim Burrell at AIM 2011 . A video, "Oil of the Lord" was recorded for "STL Experience" (2011).
Ron is currently finalizing his Independent solo Project which goes beyond the powerful praise and worship music that many are familiar with. After being tested with the trials of life, Ron has been led to carry his minis-try beyond the church walls. This project will feature music that ministers to various walks of life. His anticipated single "King of Glory" features Mason "Mase" Betha leading with a message of inspiration that is a compliment to the powerful vocals of Ron Summers.  A Creators mix of R&G Produced by Jon Jon Webb.
"His production debut on Be-yonce's, "Deja Vu", for which he won a Grammy" to accompany 7 stellar nominations. Ron Summers Single release is targeted for Fall 2011.
"Turning the Page" featuring Nikki Ross is an anthem of praise that brings a message of hope to the multitudes that have felt the effects and have suffered though test and trials in their lives. Many have been affected by personal pressures, Recession, depression, natural disasters and the wars (spiritually and abroad) "Turning The Page" reminds us that it's not to late to pick ourselves up, over-come our trials and live on purpose!

"Oil of the Lord" Inspired by the absence of the spirit during a church service, this song calls for an anointing that will heal you spiritually, mentally and physically. Recorded during AIM for the COGIC St. Louis Experience DVD.