Interview | Nakitta Foxx talks about stepping out "on her own," releasing debut project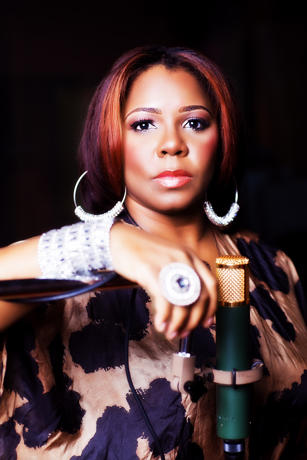 Nakitta Foxx talks about stepping out "on her own," releasing debut project
An interview with: Justin Sneed
In the city of Houston, good singers come a dime a dozen. In fact, the list of people who can't sing is probably shorter than the list of those that can. With so many talented singers in the area, you would think it would be hard for artists to stand out and make a name for themselves. For Nakitta Foxx, that has not been the case at all.
God has carefully planted each step for her to follow, from  singing with The Arkansas Fellowship Mass Choir, to her days with Gary Mayes and Nu Era, to currently serving as praise and worship leader at Houston's Fountain of Praise Church and being a member of one of the biggest groups in gospel, the Kurt Carr Singers.
Nakitta is on the move, and this time, it's on her own.  For years, fans have been patiently waiting for her to release a solo project. Well, the time has finally come. Nakitta will be releasing her debut album "Let Us Worship" on Nov. 1, 2011. With only a few days away from its release, I had the privilege to be able to interview her about the project and what God is doing in her life.
She admitted to me that she was nervous. I wondered how one could be so nervous with the kind of gift that she possesses. A gift that she first knew she had when singing as a young girl in the church choir in Prattsville, Arkansas. "I was 11 years old, and my church choir was getting ready for a big musical. The soloist who normally leads "There Is No Way" was unable to sing. I was asked to lead it, and there I was this little girl singing a big song like that, and I wasn't singing with the kids choir either, I was singing with the adults. I remember how amazed everyone was. I didn't really take it seriously until I became an adult, but I'd have to say I realized at about age 11 that I had a gift."
Years later, she moved to Houston, TX to attend college. It was in Houston where things really started happening. She developed her gift of singing in the Prairie View A&M BSM Choir and in the gospel group Gary Mayes and Nu Era. For the past several years she has been the praise & worship leader at the Fountain of Praise as well as a member of the Kurt Carr Singers. From those two experiences, she learned a lot of valuable lessons; one in particular had to do with taking care of her instrument. "You know I definitely learned to take care of my voice. I mean Kurt has us singing in the rafters (she laughs).  And with me being a praise and worship leader, not only do I sing three services on Sunday but also for Wednesday night bible study as well. So in serving in those roles, I learned the value of having vocal rest, what to do and what not to do so that my voice is capable of doing what it needs to do when the time comes."
A praise and worship leader and Kurt Carr singer are just two of the roles, Nakitta holds, she is also a wife and mother (you can hear baby Aimee in the background).  She says it is definitely hard to balance all of these roles. "I'm not going to lie, there are definitely times when I want to say no to everybody . But as soon as I get to that point, God renews my strength and gives me the strength to keep going."
Nakitta is now adding on one more title to her busy life and that is a solo artist with her debut project "Let us Worship". She felt as if she had more to share and wasn't able to do that in her current situation. "God spoke to me that it was time I go forth with my ministry so that nations could see the works that God has done with me".  Nakitta wrote nine out of the eleven songs on the project and worked with producers Terence Vaughn (James Fortune and FIYA), Corey Washington and Chris Walker.
When asked if there was a particular song that meant the most to her, she answered "More of You." "The song speaks the most to me because I definitely want more of Jesus. I only want to hear his voice for direction. I just truly want more.  But you know what I noticed, people like all the vocal tricks and everything but the most important thing they want is the word. They want more of him. People are thirsty for the word and they want an artist to actually minister to them."
Nakitta made it very clear to me that the recording process was not easy. "One thing that I learned during this process is how to be patient. There were times when I would be in the studio waiting all by myself (laughing). I also had to be patient because there were a lot of pushbacks for the project as well. I learned that God is faithful. God has been faithful to me with this project."
When asked what the Houston gospel music community means to her she replied. "Wow, living in Houston has definitely been a blessing. There is so much talent here, it's ridiculous. There are singers here that the world doesn't even know about who are up and coming and just incredible. I'm just amazed at the incredible singers here, from the choirs, to the groups, to the solo artists. God is doing something special in Houston and I'm blessed to be a part of it."
God is definitely doing something special with Nakitta Foxx. It's been a long time coming for her and her fans but like Nakitta learned, patience is often a good thing, with this project being a sure testimony to that. If there is one thing that is true about Nakitta, it is that she not only accepts every new role that God places in her life, she fulfills it with a quality of excellence. "Let Us Worship" is no different, and will only serve as another stepping stone to the great path that God has placed before her.
"Let us Worship" is available Nov. 1 on Amazon.com, CDBaby, iTunes and www.nakittafoxx.com.
Justin Sneed | Twitter me: Justin Sneed