Event Rundown | Houston Mass Choir Live Recording Review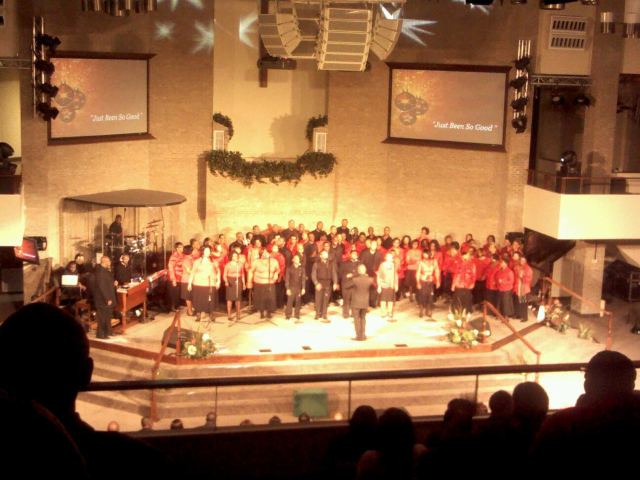 The Houston Mass Choir of the Gospel Music Workshop of America made their way to Good Hope Baptist Church on Friday night to record their album, marking a new Houston Mass sound. The event was produced by Walking By Faith Ministries.
Upon arrival, we were greeted by ushers and promotional tables that were a great compliment to the event.
After praise and worship, the choir was brought to the stage adorned in black and red.
The first selection was "So Good," a mainstay in the choir's repertoire. Michael Green sang and directed the next song with a free flowing, "Take Off Your Shoes" that had the spirit of Walter Hawkins' "Right & Good." Mark Taylor, Abundant Life Church's Music Director led the song "Reverence."
The most powerful point of the concert came during the performance of Dr. Theola Booker's "Holy, Holy, Holy." Tramaine L. Hawkins led this arrangement into a worship-filled atmosphere. The choir went into a reprise of the song and ushered the people into worship, Dr. Theola Booker was guided off the pulpit in praise.
It personally took everything in me not to jump off the balcony (I was sitting on the very top against the wall). I wanted to skydive off the balcony on the floor below.
Bruce Linscomb's "Magnify Him" was a good tune after the praise break to get the choir back together after rearranging some of their outfits during the praise break.
Chester D.T. Baldwin, a staple in gospel music was featured on the uptempo selection, "Great is the Lord." Baldwin's experience in working the crowd made the song very energetic, although a more churchy tune would have likely been even better. His traditional voice is missed in gospel music and his recording is not set to be held until 2012 or later, so a traditional recording with his voice would've probably set radio on fire.
This song would've been taken to another level with Houston's Daniel Johnson or Cedric Ballard.
The next song, "In Times Like These" was a great addition to the project's track listing. It showed that the choir could hang with Ricky Dillard & New G and other choirs that specialize in extremely high notes and vibrato. The song is reminiscent of Wilmington-Chester during their heyday.
The song, "If God Had Not Kept Me" is a good church song, written by William Barksdale. The powerful vocalist Wilma Bivens led this Sunday morning worship song. Chester Baldwin would've been a great addition to this song. His hit songs during the 90s sounded just like this and are still sang to this day. Can somebody get us a studio version of this song with his voice to go? Ha.
Upon a break, a GMWA nurse was spotted in the hallway. We tried to get a photo but she ran away. LOL Shawn McLemore took the stage and led Anthony McBeth's uptempo tune, "Praise the Lord." On this song, the choir had an even fuller sound. McBeth's vocals were a great addition to the song with his powerful delivery.
Then, Rayshod Caldwell directed his tune. It is the official footstomper of the recording. It will surely be on church concert song lists when the recording is released.
A standout from the recording was Richard Chance's "He Promised," led by Treva Jones. It had an east coast flavor to it and had the choir and audience in a groove. Jones' voice was a perfect fit for this song.
Donna Gaston's "Lord I Give You Praise" was another entry into worship at the event. Gwen Harris led this tune. It would've been a great fit on "Youth for Christ's" album that made "The Struggle is Over" famous.
After a brief exhortation, Lecresia Campbell improvised a verse from the song and took it even higher. Her part wasn't recorded, but a reprise featuring her would've complimented the song, like Kim Burrell's reprise of "Jesus Paid it All" did on Ricky Dillard's "Worked it Out" project.
Ron Materre's "For All You've Done," led by Eleanor Murray and Helen Wright, was a perfect ending to the recording. It will remind you of those majestic GMWA recordings of the 1990s (Live in L.A., When I Get Home). With strings added to this song, it will be one of the better recordings.
The band was tight and didn't confuse me with random chords and tracks that conflicted with the line of the song. Kudos to the band. There was also no major sound issues. Good Hope is one of the best venues for live recordings and concerts. It's awesome to have a church locally that invests into it's media arts ministry.
Some stand outs were (Judging from songs that I could hear on the radio, be sold as a single, for creativity and vocal performance): In Times Like These, He Promised, For All You've Done.
Hopefully, the production of the recording won't take away the live element. There were many moments caught that can not be studio produced.
Also, hopefully the live choir sound will be maintained.
Soap box: Too many times there are choir recordings but when it gets to the shelves, it sounds like a praise team singing, when there are 75-plus members in the choir. Top choirs have maintained a mass sound and still been successful, such as Potter's House, Mississippi Mass, Chicago Mass, Georgia Mass. The sound of the mass choir is dying and needs to be maintained for our future gospel singers.
This project is a monument to the hard work that the Houston GMWA has put into the choir over the past decade. It also shows that the GMWA is still supporting and producing the next big thing in gospel music. This project is surely something to look forward to.
Front page photo by: Kelly Richardson
Follow me: Twitter @RightsChamp | Facebook me: facebook.com/RightsChamp | My site: bmccoy.ning.com