Earnest Pugh set to become minister of music of Silverlake Church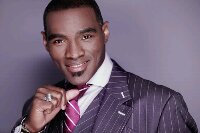 Path Magazine reports that gospel star Earnest Pugh is currently finalizing a deal to become the Minister of Music of Silverlake Church, located in the Houston suburb, Pearland, TX. The report says that Pugh has not yet finalized a deal with the church but a start date is looming.
Pugh already has connections to Houston. He was previously signed to Houston's Black Smoke Music, but he ended that relationship to start his own label and ink his own distribution deal.