Drummer Marvin McQuitty passes away, memorial to be held Sept. 17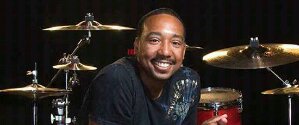 Famed drummer Marvin McQuitty passed away on Sept. 11 after an illness. A memorial service is being held Sept. 17, 11am at Grace Church-Humble. His biography on drummerworld.com details his extensive career in music below.
Marvin McQuitty is no stranger to the music industry. What began as mimicking his father on drums a the age of 3, blossomed into what Marvin was destined to do . . . play.He is the quintessential drumm and is passionate about playing. His talent, playing ability and multiple styles can be summarized in 3 simple words, power, accuracy and finesse.
Marvin's skills on the drum have been heralded as supernatural yielding incredible control with uncanny musicality and sensitivity. Marvin has made his mark in the industry as a solid, versatile, and trend setting drummer. Over the course of his career he has accompanied virtually every major artist in contemporary gospel.
He has the opportunity to work with Albertina Walker, Alex Acuna, Angie & Debbie Winans , Ben Tankard, Bry Cage, Canton Spirituals, CeCe Winans, Commissioned, Dawkins & Dawkins, DeLeon, Donnie McClurkin Dorinda Clark Cole, Dottie Peoples, Esther Smith, Fred Hammond, Hezekiah Walker, Israel & New Bree Joann Rosario, Judy Jacobs, Kieara Sheard, Kim Burrell, Kirk Franklin, Krystal Harris, Kurt Carr, Martha Munizzi, Marvin Sapp, Mary Mary, Men of Standard, Phil Driscoll, Ricardo Sanchez, Rizen, Shirley Caes The Clark Sisters, The Singletons, The Winans, Tim Bowman, Vanessa Bell Armstrong, Vicki Yohe, Vick Winans, Williams Brothers, Witness, and Yolanda Adams. His sound both in-studio and live has placed him in high demand. As a versatile drummer, playing all styles, he has also worked with Mario Winans, Jessica Simpson, Stevie Wonder, Destiny's Child, Sheila and Gerald Albright.
Not one to rest on past accomplishments, Marvin has added booking manager an the production cap to his cache of skills. Currently he is booking for Israel and New Breed, and still fi time to produce local and national artists.
Marvin is living his dreams, walking in his purpose and affecting the lives of thousands with his spiritual inspiration and affinity for God. He loves his new hometown, Houston, TX where he's active member of his church, as well as, the phenomenal opportunities that come with living in a major metropolitan city.