Listen In | Monica Matthews' project "In Me"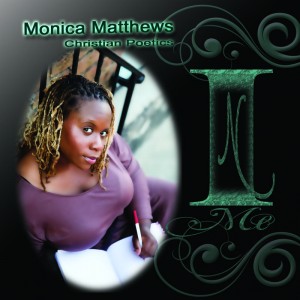 Spoken word artist Monica Matthews has released her newest project, "In Me". The album features a mixture between spoken word, neo-soul and contemporary sounds with a Christian vibe. "In Me" features ten tracks that groove between real life situations, laughter, moments of joy and pain. Monica describes the project as "an inspirational, love-promoting, soul-stirring masterpiece with music, that will not only lift your spirit, but will challenge you to think."
The single, "Break Up Letter" is a contemporary track that plays on the realities of a real-life break up, but only this time with Satan. It takes the listener on a ride, into a powerful message about freeing the mind, body and soul. The media has recently taken notice of Monica's ability to deliver powerful lyrics; she has been featured in The Indiegator Magazine, as a featured guest on The Kingdom Network and is currently a featured artist on MyHoustonGOSPEL.com.
Monica is a well-respected artist that has been featured across the country, being showcased in Nashville,TN; Chicago, IL and Atlanta, Ga. Monica is also active in her community, she established the "E.A.T. Life Creative Writing Café" to help foster creativity and innovation in the minds of young writers in Houston, TX. This program conducts after-school and community writing workshops that challenges students to become leaders in their ability and talents. She is also the founder of the Houston spoken word collective, Christian Poetics.
"In Me" is available on iTunes, Amazon.com, CDBaby.com and on christianpoetics.com.
For booking, call 414-403-2080.
Contact her on Twitter: @C_Poetics
Facebook: facebook.com/christianpoeticsofficial