All-Star Weekend brings Faith and Family event to Houston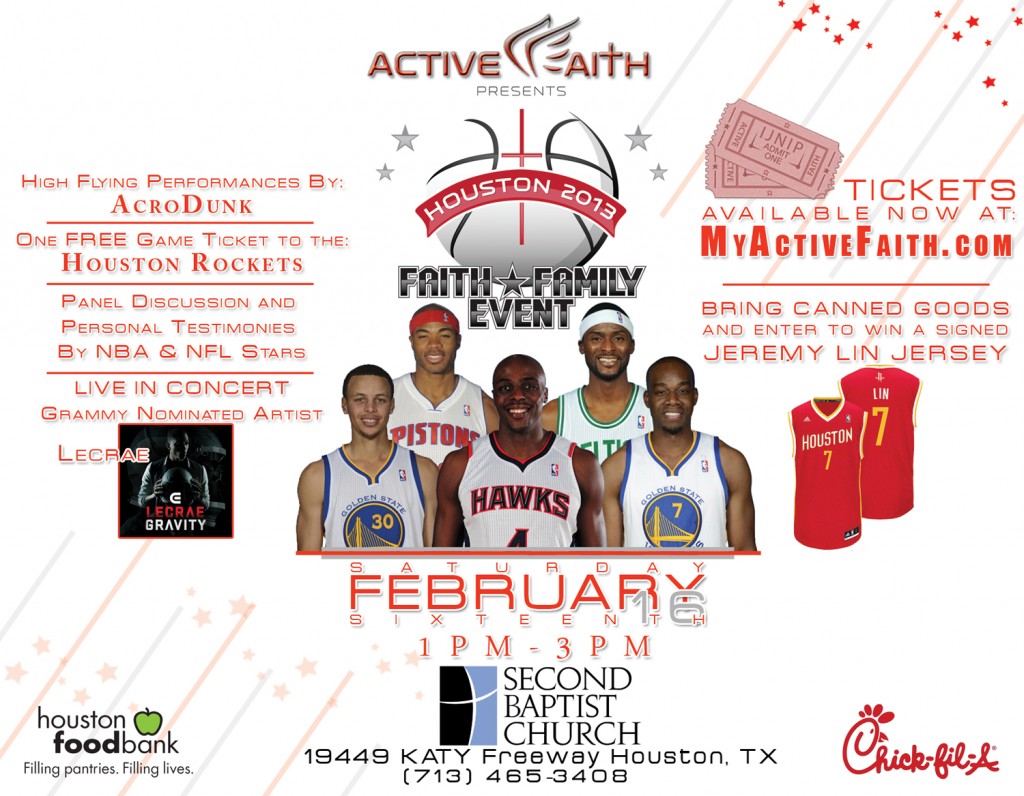 On Saturday, February 16, 2013, Active Faith Sports, in partnership with the Houston Rockets, brings the Faith and Family Event to Houston for All-Star Weekend. The event will be hosted by Second Baptist Church, one of Houston's most revered megachurches, located at 19449 Katy Fwy, Houston, TX 77094. The event will take place from 1:00 p.m. -3:00 p.m. and will feature NBA players from various teams in a panel discussion about Christianity in the world of sports and how their faith has played a role in their careers.
This event will also feature a concert by Grammy nominated Christian rapper Lecrae, a high-flying performance by AcroDunk, an appearance by Rockets mascot Clutch and the Rockets cheerleaders, as well as lots of prize giveaways, including an autographed Jeremy Lin jersey and other autographed items. The fun-filled extravaganza is free for children of age three and under and everyone who purchases a ticket to the event will receive a voucher for a free ticket to a Houston Rockets regular season game. Tickets are on sale now at www.myactivefaith.com.
Participants in the Faith and Family Event include Stephen Curry (Golden State Warriors), Anthony Tolliver (Atlanta Hawks), Carl Landry (Golden State Warriors), Corey Maggette (Detroit Pistons), Daniel Gibson (Cleveland Cavaliers), Mike James (Dallas Mavericks), Nolan Smith (Portland Trail Blazers), Allan Houston (New York Knicks Executive), Charlie Ward (NBA Retired), Keyon Dooling (Boston Celtics/NBAPA), Mark Jackson (Golden State Warriors Head Coach) and more.
In addition to the Faith and Family Event, Active Faith can be seen at various events during All-Star Weekend including the Windsor Village Celebrity Basketball Game on Thursday, February 14th and in a fashion show during their post event VIP reception. Active Faith will also be featured at the Fatherhood and Family Summit Lakewood Church from 7pm-9pm on Friday, February 15th.
You can check out Active Faith Sports by visiting the website www.myactivefaith.com, on Facebook at www.facebook.com/activefaith and on Twitter @Active_Faith.