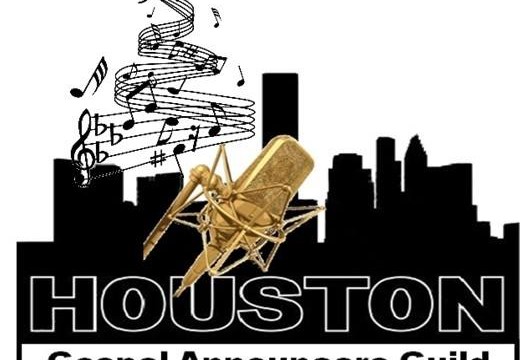 26th Annual Texas Gospel Announcers Guild Anniversary, Nov. 20, 21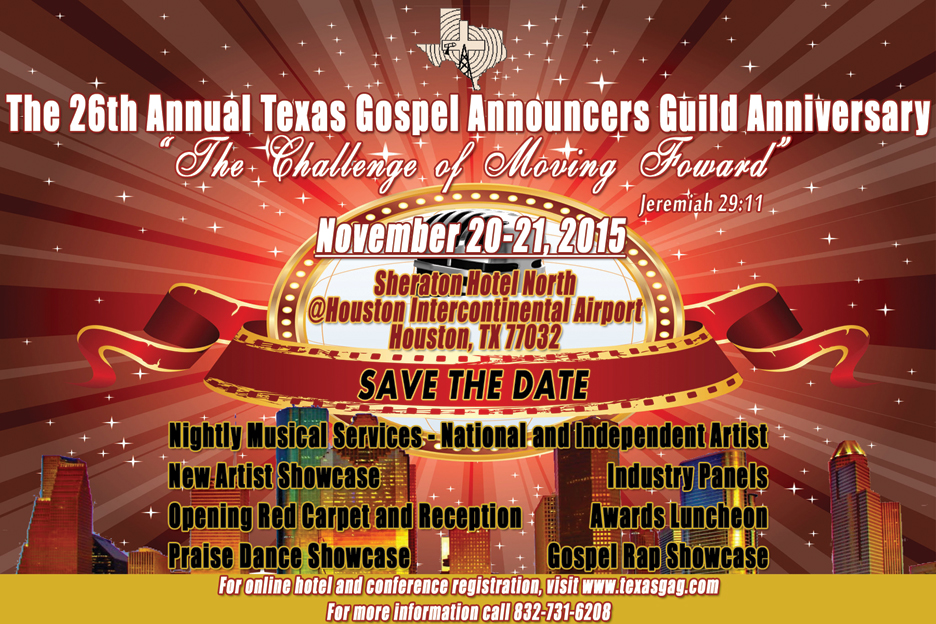 The Houston Gospel Announcers Guild (HGAG) will host the 26th Annual Texas Gospel Announcers Guild (TGAG) Anniversary and Conference, Friday, November 20 – Saturday, November 21, 2015.  The conference will be held at the Sheraton Hotel North IAH located at 15700 John F. Kennedy Blvd. Houston has become the new mecca for the music industry and during this conference the spotlight will be on gospel.
Friday and Saturday will be two packed days of daily industry panels and seminars, new artist and praise dance showcases, a red carpet awards luncheon and reception, plus a gold carpet holy hip hop showcase and reception.  Additionally, there will be nightly musical services that are free and open to the public. Also on hand will be a host of exhibitors selling their goods and services.
Day one begins with a welcome reception for delegates and VIP guests. The theme for the opening Friday of the conference is a "TGAG Urban Explosion". The explosion will highlight holy hip-hop, urban dance, spoken word, comedy and more. Daily gospel music industry seminars will be comprised of several notable panelists: Mathew Knowles (Music World), Dr. Leonard Scott (Tyscot Music Group), Cedric Bailey (Rejoice – Musical Soul Food), Christian Hip-Hop Artist, Mentor and Visionary Tre-9, Hip-Hop Booking Agent Jimmie McDowell, Manager Greg "Uncle G" Lyons, Dr. Dennis Cole (Chicago GAG), NYC Radio Personality, Daulton Anderson (WHCR 90.3 FM) and many more.  Evening festivities kick-off with an opening reception, and then a praise dance/mime workshop. Friday will culminate with a nightly musical praise service and a holy hip-hop gold carpet and artist showcase.
The Notable Achievement Awards Luncheon is the highlight on Saturday at 1:00 p.m.  HGAG will honor Congresswoman Sheila Jackson Lee for her contribution to the preservation of gospel music. Congresswoman Lee introduced legislation, H.J. Res 64 which established September as Gospel Music Heritage Month. Other honorees will also be recognized from different Texas GAG chapters. National and local recording artists will perform in their honor. Entertainment includes:  Myron Butler (Potter's House), Dr. Leonard Scott (Tyscot Music Group), Endurance, The Showers, Chester D.T. Baldwin and a national recording artist who is a special surprise guest. Tickets for the luncheon are $35.
"We are inviting industry hopefuls, gospel music lovers and the general public to join us in the celebration", said HGAG President, Catherine Dorsey. Registration is required for the industry panels. Aspiring singers, gospel hip-hop artists, praise dancers, composers, writers, producers, booking agents, managers and others hoping to gain a foothold in the gospel music genre will gain the most from this conference.  There will be tons of industry information targeting independents. Panelists will be covering topics such as: social media, branding and marketing, building a relationship with radio, surviving in the music industry as an independent and much more.
Conference sponsors include: Houston Arts Alliance, Tyscot Music & Entertainment and RCA Inspiration.
For more information, please call 832-731-6208 or visit us at our Website: http://www.texasgag.com/
Connect with Houston Gospel Announcers Guild on Facebook.