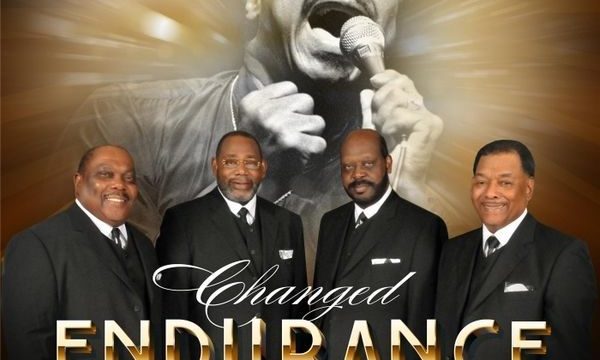 Endurance New Release "Changed" Featuring the Late Joe Ligon
Foot-tapping, hand-clapping, down home, happy, feel good, gospel music are emotions invoked when describing traditional gospel quartet music. Houston based Endurance stir up those feelings and more in their heartfelt style of musical delivery.
The six-time Stellar Award nominated traditional gospel quartet group consists of manager and vocalist Claude Cummings, primary lead vocalist Michael Robertson, vocalist Earl Sampson, and formerly the late Dave Botts who passed away in May, 2017. Two new members Wallace Grant II and Sean Webb have stepped up to the microphone taking on vocal duties left by Dave, as well as Earl Sampson who is temporarily on medical leave.  Each member has the ability to lead and assumes that role at different times.
Changed is the sixth studio recording by Endurance of Houston, Texas. The new CD delivers ten tracks which are spiritual, uplifting and versatile in how it sounds and feels. "It's a new but welcomed direction for Endurance because it allowed us to stretch and do something out of the box." The CD is a tribute to the late Joe Ligon. Endurance is honored to have had the opportunity to collaborate with Joe before his passing in 2016.
The lead single, "Changed" is their latest music offering. It is the last known feature and recording by the legendary, Grammy-Award winning, lead singer of the Mighty Clouds of Joy. A song fans of the late singer will treasure…a true collector's item! The single was released in late January, 2017, and is impacting radio now. It recently broke the Top 100 on the Nielsen/BDS Gospel Radio Airplay Charts entering at #97 and climbing. Other promising singles include "Right There," "Daylight," "Knock the Devil Out" (Holy Ghost Punch) and "God is "Making a Change." Three of the songs were written by long-time songwriting collaborator "Spanky" Williams. Download it
now on iTunes
.