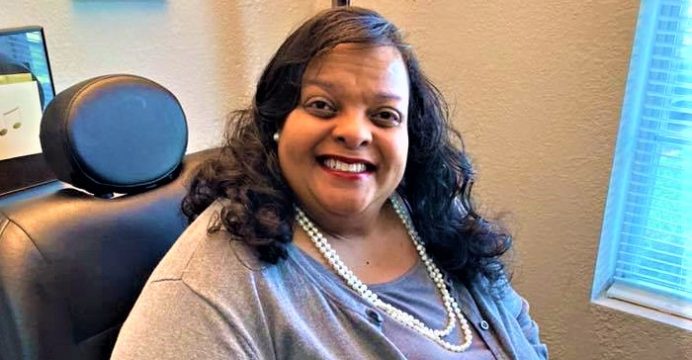 Dr. Jacqueline Chambers to celebrate 50 years of music ministry, Dec. 22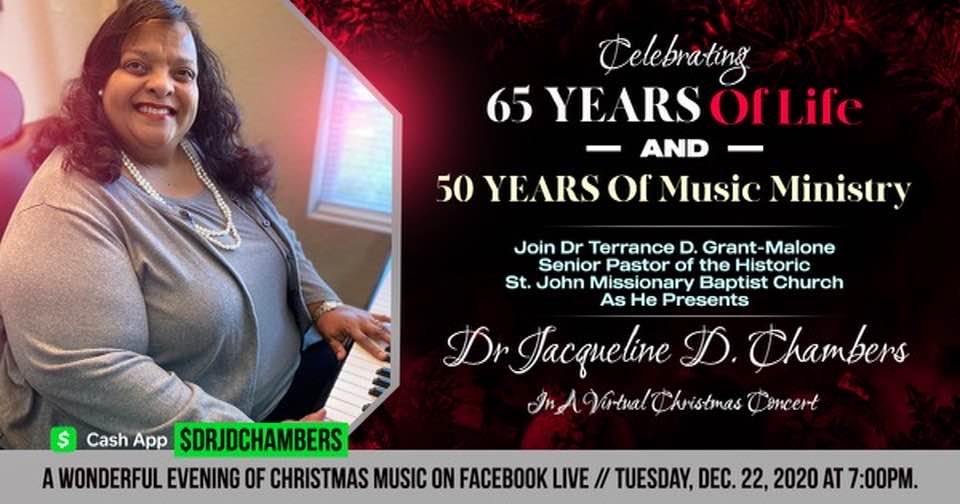 Houston musician Dr. Jacqueline Chambers is celebrating fifty years of music ministry, December 22 with a Facebook Live event at 7:00pm CT. Watch it live.
Read her biography:
When the Lord has a calling on your life, you are duty-bound to respond to it. Jacqueline D. Chambers has been responding to that calling since she was 3 years old. Her parents, Henry and Pinkie Reed Chambers, recognized that their daughter had unique musical potential, even at that early age. To develop that talent and potential, they enlisted the support of noted Houston area musician Professor C.J. Richards, who taught her piano, organ, violin, xylophone, saxophone and trumpet. Further musical nurturing and training was provided by Dr. Theola Booker, Mrs. Olivia F. Marshall, Professor Richard Baker, Mrs. Clayton Johnson Gleed, Mozart Hammond, Professor Robert Brownlee and Professor Jean Preston. She flourished academically and spiritually with this anointed tutelage.

Dr. Chambers' music career is one of accomplishment, dedication and professionalism. She holds a Bachelor of Music in Music Teacher Education from the University of Houston and Bachelor of Theology and Doctorate in Sacred Music from Mt. Hope Bible College and Theological Seminary. She served as a music educator in the Houston Independent School District for 32 Years. Her dedicated work was recognized by her induction into Who's Who Among America's Best Teachers and the recipient of the Harmony Award, which was presented by the Texas Black Music Educators Association, an affiliate of the Texas Music Educators Association and guest lecturer on Hymnology at the Lancaster Theological Seminary in Lancaster, PA.

This musicologist has served numerous churches as Minister of Music and Worship Leader. Currently she is the Minister of Music at Trinity East United Methodist Church. She is an ordained minister and former Ruling Elder in the Presbyterian Church, USA. Further, because of her camaraderie with others and sterling reputation as a "musician's musician", she is regularly sought after to work and perform with many notable composers and artists to include Barbara Johnson Tucker, Sara Jordan Powell, Bishop Walter Hawkins, Edwin Hawkins, Kurt Carr, Richard Smallwood, Glenn Burleigh, Tramaine Hawkins, Dorothy Norwood, Kathleen Battle and Kathy Taylor, just to name a few. In addition, she has performed for noted political leaders to include President George H.W. Bush, President Bill Clinton and former Texas Governor Rick Perry. She is a member of the Houston Chapter of the Gospel Music Workshop of America.

In 2011, Dr. Chambers realized a life-long dream and became the visionary co-founder of Heavenly Hands Music Productions. This production company features concerts with celebrated "piano divas" and "divas in training" throughout the state of Texas. She has now embarked upon a solo piano career with a series entitled "Music from my Living Room".

To God be the glory for the good things He has done . . .