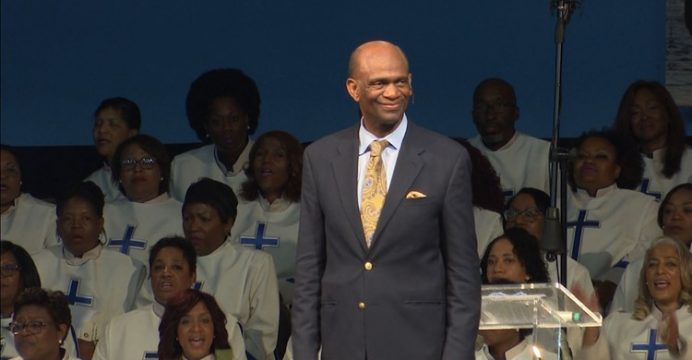 Kirbyjon Caldwell, pastor and Houston gospel icon sentenced
Gospel producer and pastor, Kirbyjon Caldwell was recently sentenced to prison, accused of "conspiring to persuade multiple victims to invest nearly $3.5 million in Chinese bonds." His work in Houston, leading Windsor Village United Methodist Church, includes it becoming a nationally recognized music department spanning over three decades. Music was a draw for building the congregation, highlighting choir music as word church worship styles were gaining popularity during the 1990s.
From combining the talent of Hanq Neal, Kathy Taylor, Leon Lewis, and Luke Mercer, Windsor became the largest United Methodist Church in the country while securing itself as a gospel music powerhouse. As his following increased, Caldwell placed Rudy and Juanita Rasmus at UMC's St. John Church – Downtown, where the pastors were signed to Music World Entertainment's Spirit Rising imprint during its heyday in gospel music.
This NBC News feature tells the story of who KirbyJohn Caldwell is and what his contribution to the community.
Awesome God featuring Brian Courtney Wilson

Come Let's Worship featuring Kathy Taylor

Miracles Still Happen