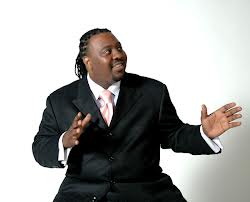 Artist Profile | Cedric Ford
CEDRIC L FORD
Artist/Minister/Composer
Born and raised on the west side of Chicago, Cedric Ford was introduced to the world of gospel music at a very young age. Early on, people began to recognize his innate musical abilities. At the tender age of 13, Cedric served as the Minister of Music of his grandfather's church where he served in this post for 14 years while nurturing and developing his incredible gifts.
Cedric credits the shaping of his talents musically, to his parents (Elder Collin and Evangelist Emma J. Ford). His musical influences are, Rance Allen, Commission, Stevie Wonder, The Clark Sisters, Donnie Hathaway, and many others.
This time in his life undoubtedly prepared him for his recognized work with the Stellar Award Nominated, Shekinah Glory Ministry where Ford produced, sang and wrote, songs on two of their highly successful CDs, "Praise Is What I Do" and "Shekinah Glory Live".
During this same time, Cedric began to expand his ministry and was called upon to contribute to the projects by gospel music legend Dorothy Norwood and the GMWA's Men's Choir. Cedric's deep gospel roots and soulful sound has allowed him to share the stage and pulpit alongside some of the greatest names in the Gospel Industry today such as; Donnie McClurkin, Dorothy Norwood, Albertina Walker, Israel Houghton and New Breed, Ron Kenoly, and many more.
In addition to gifts in the musical arts, Cedric began to be recognized for his budding acting skills. He combined his musical and theatrical talents in stage plays, which were experiencing a nationwide resurgence in popularity. After honing his skills in local and regional productions, Cedric landed his first major role in the David E. Talbert's awarding winning play "The Fabric of a Man". His performance gained him national recognition and led to a NAACP Theater Award nomination.
Currently, Cedric Ford serves as the International Worship Pastor at the Reflections of Christ Church under the leadership of world renowned Scholar, Dr. Dana Carson in Houston, TX.
He firmly believes that in times of difficulty, people should turn to God and give Him the worship that He is due. From this birthed, the project, "Created 2 Worship" featuring the vocals of Heart of Worship ,where again Ford displays his vast musical gifts by writing and producing the majority of  the songs featured on this project including the lead radio single "Created 2 Worship" .  
As Cedric Ford continues to tour and minister in the Domestic and International markets, the highly anticipated release of a new CD Project and Live Recording is scheduled in the Fall of 2013.  
FOR BOOKINGS, INTERVIEWS, TELEVISION OR RADIO APPEARANCES CONTACT:
ACTS MANAGEMENT 404.432.7648 or EMAIL: ActsManagement@live.com