Kim Burrell signs new record deal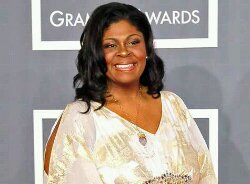 Houston's Kim Burrell has signed a new record deal with Arrow Records of Atlanta, Ga. The deal is being described as a "strategic partnership" by labelhead Cappriccieo Scates. Arrow Records recently signed soul star Ann Nesby. Burrell had a deal with Shanachie Records, which produced two projects, "No Ways Tired" (2009) and "The Love Album" (2011).
She also produced two albums in 1998 and 2001 under Queen Latifah's Tommy Boy Gospel, then had a deal with Sony that didn't produce a project during the early 2000s.
Arrow is expected to release her next album in 2013.